Photographic
Canon EOS 600D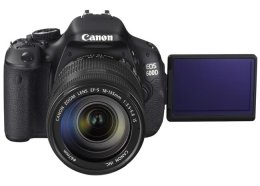 Normally I use this camera for everyday photography but noticed that there is a wide community for DSLR astrophotography. This camera is the only camera I'm currently using for deep sky photography, and I must say that it has really been the camera I use most often. I sure remember the first time I photographed the orion nebula thru an APO refractor with it. The orion nebula just threw me off, it was quite amazing! The colours of the nebula were cleary visible even with a 30 second exposure! The best thing with this camera is that I don't have to take a computer with me in the field, I can use this completely stand-alone. 2014 this camera was sent to Astronomiser for a rear filter removal. This increases the cameras sensitivity to red light frequencies. It's very common for astrophotographers to make this mod to their DSLR cameras.
Camera facts:
Sensor size: 22.3 x 14.9mm CMOS APS-C format (1.6x crop factor)
Resolution: 17.9 megapixels (5184 x 3456)
Pixel size: 4.30µm
Film speed: ISO 100 to 6400
QHY5L-II-M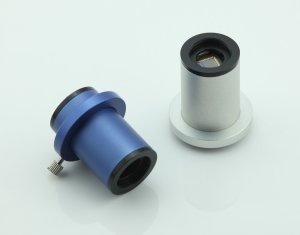 My primary workhorses for solar system photography. When I go for the Moon, Sun and the planets and sensitivity is important I use the QHY5L-II-M. The camera also has an ST4 guiding port output. The camera is mono sensor, but with a filter wheel and colour filters I can aquire colour pictures of the planets. The resolution for the camera is 1280x960. When I take long exposure shots with the Canon 600D and the SkyWatcher NEQ6 mount, I use this camera as an autoguider camera.
Camera facts:
Sensor: Aptina MT9M034
Sensor size: 1/3" (~4.8 x 3.6mm)
Resolution: 1.2 megapixels (1280 x 960)
Pixel size: 3.75µm
Quantum efficiency: 74%
Frame rate (full resolution): 30FPS
Frame rate (640x480): 106FPS