M31 - Andromeda Galaxy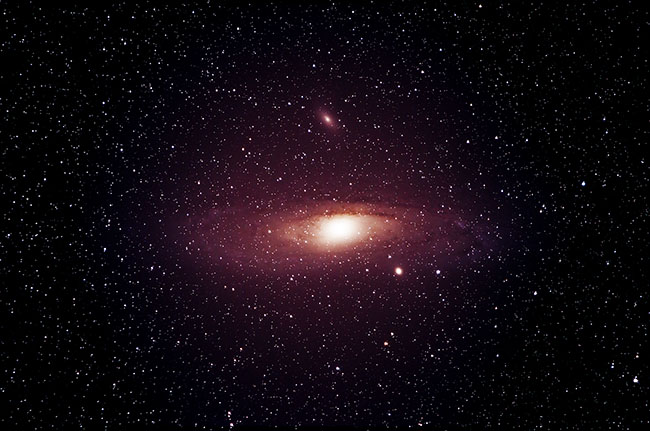 Here the companion dwarf galaxy M32 is seen above M31. For this picture Leif borrowed his fathers APO-lens which turned out to work really well! Click here for more information about this night.


A galaxy is a massive, gravitationally bound system consisting of stars, stellar remnants, an interstellar medium of gas and dust, and dark matter. Examples of galaxies range from dwarfs with as few as ten million stars to giants with one hundred trillion stars, each orbiting their galaxy's own center of mass.

― source and more information wikipedia
Date: 2013-09-07
Location: Ekerö, Sweden
Temperature: 15 °C
Telescope: Sigma 120-400mm APO HSM lens
Camera: Nikon D5100
ISO: 800
Mount: Astrotrac mount and TW3100 wedge
Exposure time: 90 X 30 sec
Other info: Lens focal length set to 400mm@F7.
Processing: Stacked and darks-subtracted in DeepSkyStacker. Processed in Photoshop CS6.