M51 - Whirlpool Galaxy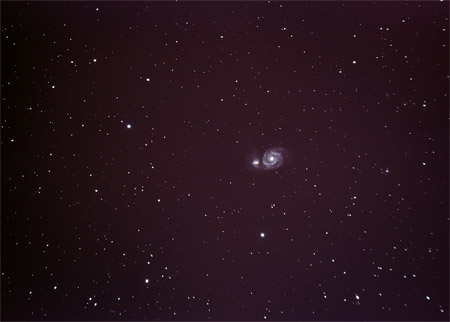 I love this image!
Together with my girlfriend I visited my girlfriends parents and decided to stay there over the night. As they live in a house and it looked like the weather was going to be good I decided to try to do some astrophotography. Not only that, I decided that this should be my longest exposure ever! After having a little bit of a problem finding M51 (I was looking at the wrong spot!) I managed to gather over three hours of data! Just looking at every subexposure it didn't look very promising, but stacking all of the subexposures together created something beyond my expectations! The nice thing with this image is that you can actually see at least three more galaxies (NGC 5229, IC 4263, NGC 5169). After almost freezing my legs off, I packed everything together at 02.00 in the night.

Date: 2013-03-15
Location: Haninge, Sweden
Temperature: -15 °C
Telescope: William-Optics Megrez 88FD
Camera: Canon 600D
Mount: Astrotrac mount and TW3100 wedge
Exposure time: 372 X 30 sec
Reducer/flattener: William-Optics Megrez 88 field flattener
Other info: Used manfrotto 055 tripod.
Processing: Dark subtracted in DSS, levels & noice processed in photoshop.