M42 - The Orion Nebula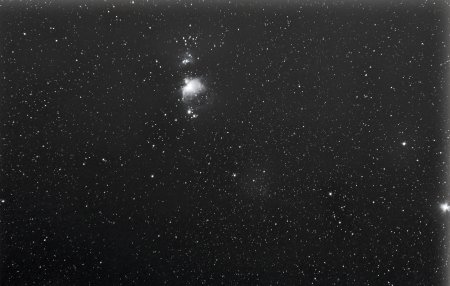 This turned out to be the best picture from a series from this night at Ekerö. It was our first time testing out the AstroTrac, which turned out to work flawlessly! Given the short focal length it was sufficient to make a rough polar alignment. The next time we will use the astrotrac we will use it together with a telescope, and then we will make a drift alignment.

Date: 2011-12-27 / 17:29:50 UTC
Location: Ekerö, Sweden
Temperature: 4 °C
Telescope: Canon EF-S 18-135mm lens
Camera: Canon 600D
ISO: 1600
Mount: Astrotrac
Exposure time: 31 X 60 sec
Other info: Lens set at 135mm.
Processing: Darks and flat adjusted. Used BackyardEOS for acquisition.