M27 - The dumbbell nebula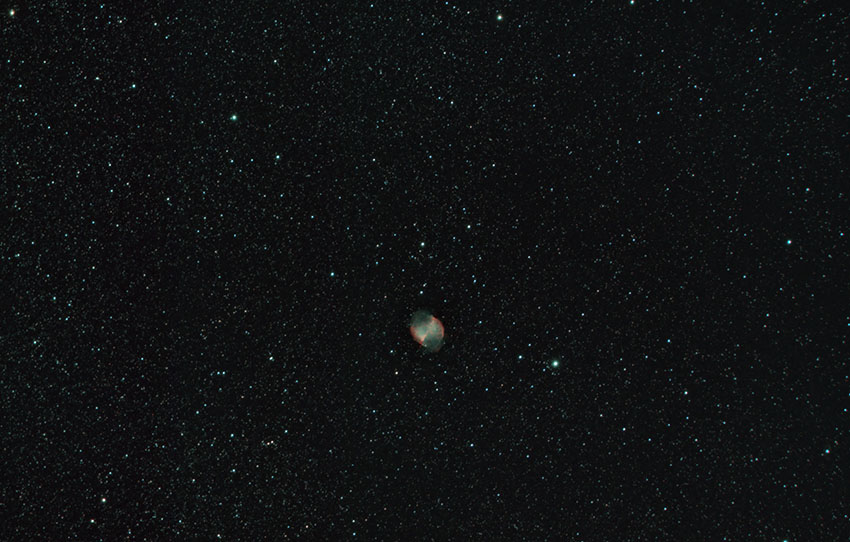 In the last weeks I've really managed to get out to look at the stars and do some astrophotography. I've always thought that photographing from the city center (in this case Munich) was a dead-end, but as I've followed various YouTubers I've learned that it's really possible to photograph given the right knowledge. Many years ago I bought an Astronomik CLS filter that I decided to use now again. I also decided to try to do some H-alpha imaging so I bought an 12nm Ha EOS clip-in filter for my old trusty Canon 600Da. I decided to photograph M27, so what I did was to gather RGB data using the CLS filter for one night, and then gather Ha data using the Ha filter a second night and then combine the data from both nights. I think the result turned out fantasically, and I'm really astonished what can be done with a non-goto mount, from a white zone, that is not polar aligned (no view to polaris from balcony) and on top of that with clouds! Given enough integration time, and lots of patience, good results can be achieved. I also spent lots of time on the processing part of this image, which for the first time of my life proved to be really fun.

Date: 2021-10-01 / 20:23:00 UTC
Location: Munich, Germany
Temperature: ~11 °C
Telescope: William-Optics ZenithStar 71ED
Camera: Canon 600Da (Astronomiser Rear Filter Removal)
ISO: 800
Mount: Manfrotto MT055CXPRO3, AstroTrac TT320X-AG, TW3100 wedge
Exposure time: 78x60 (RGB) + 41x60 (Ha) sec
Reducer/flattener: William-Optics 0.8X reducer/flattener (P-FLAT-F6)
Filter: Astronomik CLS + Astronomik 12nm Ha
Other info: 15 flats for RGB. 11 darks for RGB @ 60s. 78 lights for RGB @ 60s (1hr, 18min). 15 flats for H-Alpha. 19 darks for H-Alpha @ 60s. 41 lights for H-Alpha @ 60s (41min)
Processing: Stacked, darks-subtracted and flats in DeepSkyStacker 4.2.6. Processed in Photoshop CS6.