Himalia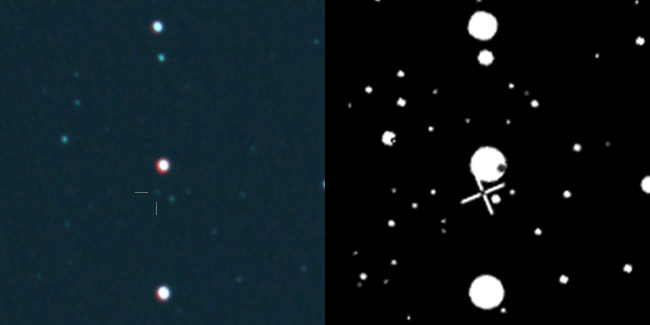 This shows the fifth largest moon of Jupiter, which seems not too often photographed. This shows that even with very modest equipment one can obtain fairly dim objects. Himalia is only about 170km in diameter, and given the distance to Jupiter at the time (4.3 AU ~ 643000000km) I think it's pretty cool it's possible to photograph it from a backyard with amateur equipment. The left image shows the actual stacked picture from the camera, and the right image shows a generated image from AAVSO with data from JPL Horizons. It's just spot on of where it's calculated it should be! Quite amazing! If you click on the image to enlarge it you will get the full-frame image showing Jupiter (over-exposed) in the upper-right corner.
Image aquired 21:23 UTC.

Date: 2013-12-07 / 21:23:00 UTC
Location: Haninge, Sweden
Temperature: -6 °C
Telescope: William-Optics Megrez 88FD
Camera: Canon 600D
ISO: 1600
Mount: Astrotrac mount and TW3100 wedge
Exposure time: 18 X 20 sec
Reducer/flattener: William-Optics 0.8X reducer/flattener (P-FLAT-F6)
Filter: Astronomik CLS
Processing: Processed in Photoshop CS6. Stacked and dark-subtracted in DeepSkyStacker. Enlarged 2X.