Deimos & Phobos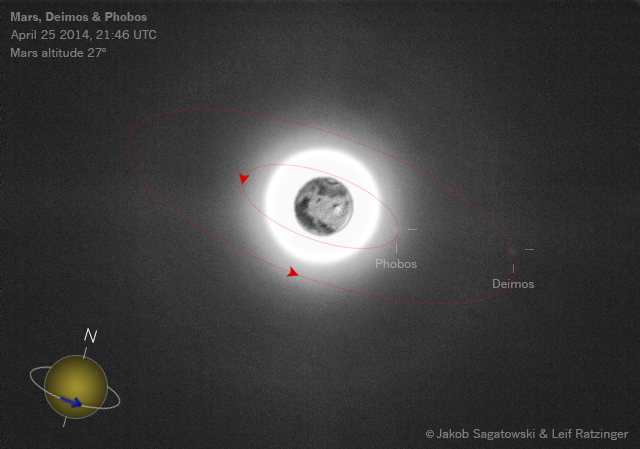 Am I happy of this picture or what!? Swedish astrophotographer Peter Rosén uploaded an image of Phobos on the Swedish astrophotography-forum astronet.se. This made me want to try to capture both of Mars moons. At first it only looked like I managed to get Deimos, but after Peter R helped me with the processing Phobos popped out! This image consists of a single capture of 63 frames, each one second long! This proves that it's possible to capture both moons with one single capture and with one single exposure setting! Before this experiment I thought that it was necessary to take exposures of different length to capture both moons. Also one must consider that this is taken from Stockholm where Mars was just about 27 degrees above the horizon. When looking at the stacked image consisting of 2 second subs we concluded that Phobos was washed out from the glare from Mars, and therefore one second was just perfect to capture Deimos & Phobos with this setup. A shorter exposure version of Mars is added here on top for reference (taken just a couple of minutes earlier). I've also overlayed the orbits of Deimos & Phobos to show that the timing of Phobos was optimal. The timing was just pure luck to be honest.

As a final note there are two more things that are cool with this picture. First, when imaging Mars I could see Deimos clearly live while capturing. Second, Phobos is rotating around Mars just below 6000km above its surface, and is therefore the moon being closest to its host planet in the whole solar system!

Date=2014-04-25
Time=21:46 UTC
Frames captured=63
FPS (avg.)=1
Shutter=1.00s
Curves adjusted in several layers for maximum contrast.

Date: 2014-04-25 / 21:45:56 UTC
Location: Ekerö, Sweden
Temperature: 10 °C
Telescope: Meade LX50 10" SCT
Camera: QHY5L-II-M
Mount: Skywatcher NEQ6 Pro Synscan
Other info: Red filter
Processing: Captured in Firecapture 2.3, stacked in AutoStakkert 2.1.0.5, processed in Photoshop CS6