Saturn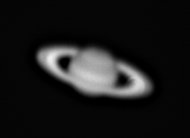 This was imaged under terrible transparency from the city center of Stockholm! Saturn was not visible with the eyes, it was behind clouds, it was that bad! Still I got a chance to image it!

Date: 2013-04-28
Location: Stockholm, Sweden
Temperature: 5 °C
Telescope: Orion Optics CT10 F4.8
Camera: Canon 600D
Exposure time: 1050 X 0.3459 sec
Other info: IR-filter used. 2.5X powermate used.
Processing: Aligned and stacked in deep sky stacker.