Barnard 33 region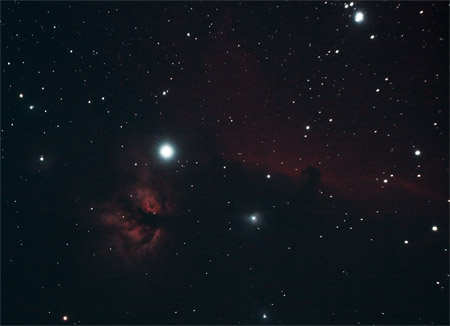 So again did we make an attempt at the wonderful horsehead nebula, though this time the full moon was not up as the last time so this image turned out a lot better than the last one! The horsehead nebula is a dark nebula located in Orion and is about 1500 light years away from earth. This night might be the last one for us together doing astronomy after work. Hopefully we can pull one night doing astro imaging during the holidays before this season is over.

Date: 2013-03-07
Location: Ekerö, Sweden
Temperature: -7 °C
Telescope: Skywatcher Equinox 80 APO
Camera: Canon 600D
Mount: Meade fork-mount
Exposure time: 39X60 sec
Filter: Astronomik CLS
Other info: Autoguided with LX200GPS 12inch with F/3.3 reducer, PHD/GPUSB and Meade DSI-Pro.